The worldwide market for sports nutrition is continuing to grow and is performing well.Valued at more than 28 billion dollars in 2016 (source Statistica), it should reach nearly 44 billion dollars by 2021 (according to Allied Market Research).Companies are constantly innovating when it comes to products, formats, recipes and how products are consumed.Along these lines, sports snacking is a segment that brands are developing to fulfil both the expectations of high-level athletes and those of sports amateurs.
New products for new consumer segments
The types of sports practitioners and consumers of sports nutrition have changed considerably over the last few years. The market potential has broadened from the niche of 'athletes' and 'bodybuilders' to the mass market of 'lifestyle users' and 'recreational users'.
An interest in healthy and natural sports nutrition
These regular sports practitioners are primarily motivated by a healthy and active lifestyle. They are looking for nutritional solutions to support them in their physical activity and their recovery. We have observed that there are more and more women amongst these sports practitioners. Fitness brands have even developed concepts dedicated to women. The sports nutrition brands are now starting to offer products adapted to their specific nutritional requirements.
Thus, the sports nutrition offer is developing to satisfy new targets with new conventions. Work has been done to refine packaging and develop more natural formulas. In this way, they are following modes of consumption that go in the direction of organic, natural, ethical and environmentally-friendly trends. Furthermore, vegan and vegetarian products .
However, there is a golden rule: the technicality and naturalness of the products must never be to the detriment of taste.
Performance and enjoyment in food consumption
Currently, faced with an abundant and varied offer, consumers do not need to compromise between performance and enjoyment when consuming food. The era of shakers with a strong protein taste is now over! The organoleptic qualities of a sports nutrition product, such as texture, aromatic balance and appearance are areas in which brands are continually innovating.
Innovation in sports nutrition regarding formats and times of consumption
Another area of innovation relates to how and when these snacks are consumed As the objective is to keep abreast of the active and on-the-go lifestyle of consumers, sports snacks have the wind in their sails with one simple principle: enjoyment, easy to consume on the go and convenience!
Ready-to-use protein drinks
They are easy to carry anywhere and do not require any preparation by the athlete. There is no need to carry around a big container of protein. Available in a wide range of flavours, these drinks can be made from a dairy or aqueous matrix.
Protein bars and fruit bars
Protein bars have tastes that are more sophisticated and fancy like 'cookies & cream' and 'brownie'. Fruit bars with natural tastes, on the other hand, are also popular.
Sports-oriented grocery products
Their objective? To consolidate nutritional levels as part of food intake or in addition to taking supplements (powdered proteins, capsules).
High-protein chocolate spreads appeal to athletes who are fond of sweet things. Pre-prepared mixes for protein-enhanced and healthy cakes, brownies and muffins offer snacks that are easy to prepare because only a few basic ingredients such as water, milk or an egg must be added.
Low Carb products
They enable traditional dishes to be enjoyed in a version that is very low in carbohydrates. Some examples are breakfast with muesli or products involving pasta, pizza, bread or sauces, as well as all sorts of prepared meals.
Products that are quick and easy to prepare are clearly in the spotlight. Brands are trying to create alternatives to the fatty and sugary products that athletes wish to restrict which often have a very heavy protein load and are healthy and tasty.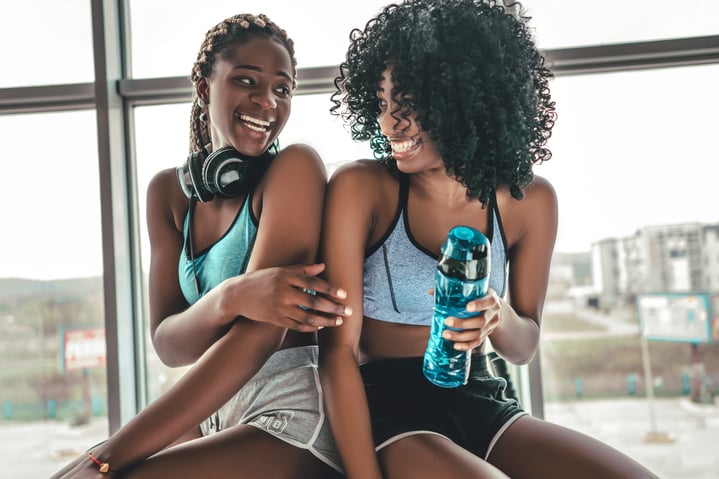 Innovation in formulating high-protein snacks
In the innovation process, notably concerning formulas, industrialists are betting on plant proteins that are popular with young consumers like millennials as well as on animal proteins such as whey and caseinates.
Technico-functional properties of caseinates
Let's take a close look at caseinates. They are manufactured from pasteurised skimmed milk and make up nearly 80% of milk proteins. Caseinates have physicochemical and functional properties that are interesting for various industrial applications and act as:
Emulsifiers
Thickeners
Foaming agents
Stabilisers
Hydrating agents
Regulators of viscosity and solubility
Tasteless
This is why the sports nutrition brands use casein, a dairy protein in the form of caseinates, in most recipes for sports snacks such as in protein bars, mixes for protein-enhanced desserts, spreads and drinks intended for the exertion or recovery phases. There are also products made up of more than 90% micellar casein. They provide numerous benefits for athletes, especially when they are consumed regularly. They contribute to healthily optimising sports performance and improve recovery after intense sessions.
In the sports nutrition market, we can see that the sports snacking segment is developing strongly.Combining nutritional qualities, performance and enjoyment, these innovative products fulfil both the expectations of high-level athletes and those of amateur sports players.
SOURCES: