Sport and physical activity cause increased requirements for energy, protein and micronutrients. More than ever, sports nutrition brands and manufacturers are moving towards sourcing quality protein that meets the expectations of informed, demanding consumers in terms of naturalness and performance. Read this article to discover the nutritional protein recommendations for different sports, the importance of the kinetics of different types of protein and chrononutrition, as well as points for consideration on the different sources of protein to fuel your performance in sport.
Increased protein requirements
Optimised intake
Each sport uses different energy sources and skills. Sports oriented towards stamina, power or explosive strength therefore each require their own special protein intakes.
Example: The protein requirements of endurance athletes (team sports, marathon, etc.) are between 1.2 and 1.4 g/kg/day whereas the needs of athletes in strength training (weight lifting, etc.) are 1.3 to 1.5 g/kg/day, which makes up 10% to 20% of total energy intake. (Source: INSEP)
A diet that does not meet the athlete's increased protein requirements could lead to a loss of muscle mass known as catabolism, which is detrimental to performance.
On the other hand, over-consumption of protein, i.e. over 2.5 g of protein per kilo of body weight per day, is not in any way helpful and could even turn out to be harmful to the athlete's kidney health and performance. It is not recommended to follow a high-protein diet for more than 6 consecutive months. Finally, protein supplements must not exceed a third of the total daily protein intake.
For efficient muscles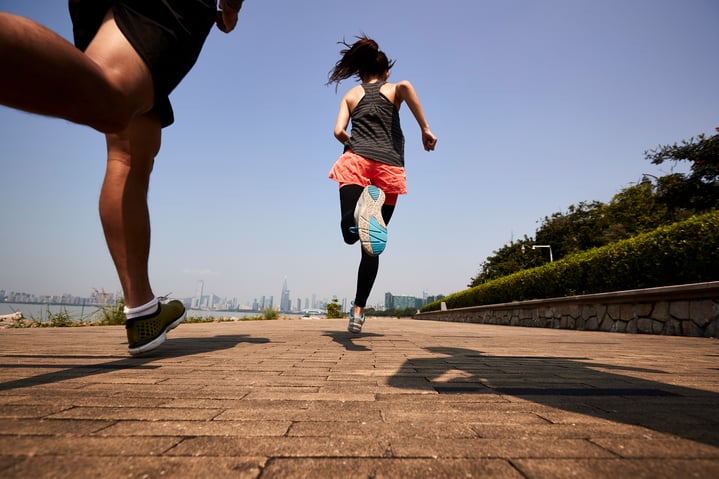 Muscle volume and efficiency are performance factors and make it possible, for example, to lift heavier weights, to go further and to run faster. Protein is the super star ingredient for athletes! Its essential role in the maintenance and upkeep of muscle mass gives it prime importance in the formulation of sports nutrition products.
With a suitable training programme and a diet rich in protein and amino acids, an athlete will be able to develop their lean body mass through the process of muscle anabolism, but to do this, he/she must consume enough protein - in quantity as well as in quality.
Ensuring a fast metabolism in athletes
Nevertheless, protein is not only used for muscle protein synthesis and maintenance; it also performs many other functions in athletes: repairing and maintaining muscle tissue (collagen in tendons, etc.), muscle contraction and movement (actin and myosin contractile fibres, etc.), oxygen transportation (myoglobin, etc.), immunity (immunoglobulins), homeostasis (enzymes, hormones, receptors, etc.).
This is why brands can also support athletes in maintaining a healthy diet which is rich in protein to maintain their muscle mass and ensure proper functioning of their body - even when not competing.
Quality protein first and foremost
What constitutes a quality protein source for an athlete?
Not all types of protein are equal. The quality or nutritional value of a protein is defined by how effectively this protein satisfies the need for both nitrogen and amino acids. Protein is the only source of nitrogen for the body. Protein requirements must be met by sufficient intake of both nitrogen and essential amino acids through the ingestion of animal protein (milk, eggs, meat, fish) and also plant protein (legumes, grains, seaweed, etc.).
Protein is made up of long chains of amino acids. Nine types are known as "essential" because they cannot be synthesised by the human body. It is therefore recommended that protein products intended for athletes include histidine, isoleucine, leucine, lysine, methionine, phenylalanine, threonine, tryptophan and valine. The animal proteins, in particular dairy proteins, which are widely used in sports nutrition contain all 20 of the amino acids and offer an excellent and economical nutritional solution for manufacturers in this sector.
Branched-chain amino acids (BCAAs) such as valine, leucine and isoleucine, as well as methionine, threonine or glutamine are particularly precious to athletes.
Read more: The sports nutrition market: an opportunity for brands and manufacturers!
Chronobiology and protein kinetics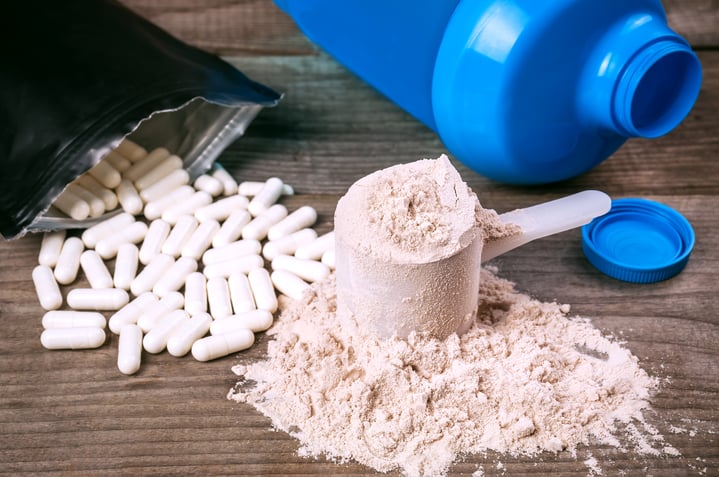 Slow and fast proteins
Sports nutrition brands that want to develop technical products take chronobiology or the kinetics of protein assimilation into account.

Soluble whey protein, for example, is referred to as "fast" because it is rapidly released and then hydrolysed in the duodenum. This means it releases its amino acids immediately and continues to do so for 3 hours after ingestion. Taken before or just after exercise, these proteins act in an active and targeted way on the repair of muscle fibres that are called upon during physical activity.

Casein milk protein, which is often used in protein powders intended for athletes, is referred to as "slow" because it activates in the stomach upon contact with gastric acid. Its amino acids are released in the small intestine and their absorption is slower, taking between 2 and 6 hours after being ingested. This is why it is advisable to take casein in the evening at bedtime in order to benefit from its restorative action during the night.
Protein snacks for the metabolic window
Sports nutrition brands develop grab-and-go products or post-workout snacks which are easy to use. An example is "ready-to-drink" protein shakes, which provide at least 20 g of protein to compensate for losses in the 30 minutes following exercise, a crucial recovery period known as the "metabolic window". Consuming drinks that contain proteins such as whey and casein after an aerobic exercise session encourages protein synthesis after exercise.
Post-workout snacks are a nutritional necessity and present an opportunity for manufacturers to provide an on-the-go solution that conveniently meets this new need. This is especially so since these snacks are not only for athletes but also for all sports enthusiasts, even those who practice sport as a hobby (running, crossfit, cycling, etc.) who will also take advantage of it benefits:
regeneration of muscle tissue
fat loss
muscle growth and strength gain
The sports nutrition market offers many possibilities for product development to meet the different protein requirements that are required by the many existing types of physical activity, different pre/post workout snack times, the formats of products for consumption at home/on the go, and the goals of each athlete. Thorough sourcing of proteins with complete and exact aminograms by manufacturers is proving to be the first step in a quality approach for consumers who are becoming increasingly demanding in terms of the origin and effectiveness of sports nutrition protein products.
---
Sources and further reading: